BEAUTY SERVICES


Custom RB Facial $95
 Each client that comes in my spa receives a thorough consultation for their facial. I hand pick fresh ingredients that come from our earth. A mixture of products from naturally made ingredients that help enhance the skin in the purest form and that are cruelty free, vegan and organic. I specifically formulate for your skin type and personalize for each unique condition that may be going on. Steam and extractions are always included so that the skin in cleansed and treated properly. Along with exfoliation and massage to strengthen the new skin for a fresh appearance. I have designed several formulations that range from exfoliating, 
reducing inflammation, infusing natural antioxidants into the skin to help lessen pore size and tighten the skin, promoting cell regeneration, focusing on diminishing fine lines, wrinkles, age spots, sun damage all without using chemicals. In which most skin these days is in dire need of hydration, but mainly I want to help focus on maintaining a regular beauty regimen at home that is practical and time efficient because of our busy lives in today's world. 
Spray Tan
 3 Pack Air Brush Sessions
$120
5 Pack Air Brush Sessions
$190
10 Pack Air Brush Sessions
$350
5 Pack Express Sessions
$225
10 Pack Express Sessions
$400
                                                Waxing
Tints
Make-Up $45+
Custom make-up application for each clients needs using brushed and sponges.
Special Events, 
Bridal and 
Every day application
Hair Services
THERAPEUTIC SERVICES



Salt Foot Soak $65 for 45 minutes
 Our salt base is a simple magnesium sulfate and baking soda which is great for drawing out toxins and impurities in the body as well as balancing your ph levels in the body. Based on which soak is chosen specifically designed for you, we have a wide range of ingredients that can be added to your soak to help ease any ailment or could be purely for relaxation. We have everything from dried flowers, citrus, mint, tea, clay, activated charcoal and herbs. All of these ingredients have a purpose for healing the body through your feet because your feet are the gateway to the body. To finish off the service includes a exfoliation scrub along with a relaxing massage that helps invigorate your feet.
Ionic Foot Bath $45 for 30 minutes
Ion detoxification process is meant to help improve the bodies balance of its bio-energy fields and to stimulate the bodies organs to function properly. It can also recharge and rejuvenate the body by decreasing chemicals along with toxins being pulled out by the electromagnetic fields creating more circulation throughout the body. This draws out bacteria, yeast (fungal), parasitic infections, virus's and chemicals. 
Health Coaching $120 an hour
With this service, it gives a one on one opportunity to help guide clients in to a better understanding on how to maintain optimum health and joy in their lives. Giving opportunity to work through struggles, learn how to set goals and how to open themselves up to a better awareness spiritually to be able to receive the life each individual desires. Being trained in health coaching from Integrative Health Nutrition has opened the door to understanding that before the client can balance a proper nutritional diet which I can help with, the mind of the client has to be in tune with the mind/body connection. Nourishment comes first from soul food, then nourishment can come from nutrition. Finding the bio-individuality for each client helps strengthen the connection that being in tune with everything as a whole is how we find optimum harmony in our lives. I love that I can be a part of helping guide clients in to a life they often times don't know they desire simply by helping awaken them consciously together.
BEAUTY BAR
Hand created services and products designed with specialized purposes for each client that sits at our bar.
We hand pick custom herbs, clay, salts, oils, dried flowers, essential oils, fruits, vegetables, sugar, oats, tea, charcoal, stones, etc. 
The beauty bar is designed to make every service and product custom to each client. 
---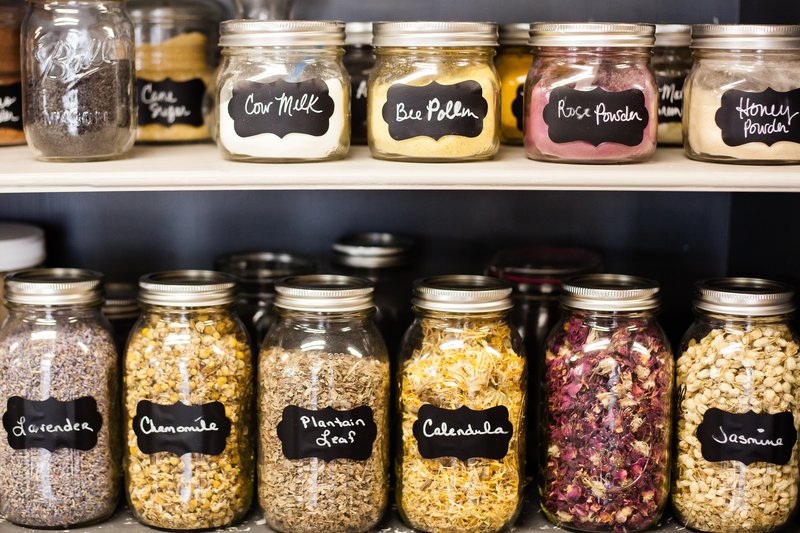 ---
---
---